The Sunday Post is a weekly meme hosted by Kimberly @ Caffeinated Reviewer. It's a chance to share News. A post to recap the past week, showcase books and things we have received and share news about what is coming up for the week on our blog.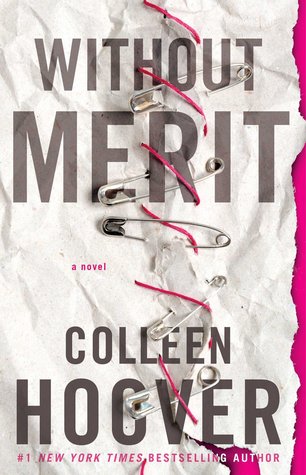 I'm not far into this one but I'm hoping it's gonna be another great read for me. Colleen Hoover is a great story teller for sure.
Still got this on the backburner, I'll eventually get through all the short stories xD
Right so I may have consumed the rest of this book one night and I have to say, I do understand why it got so hyped. The hype wasn't wrong, the actual story, plot and everything was just amazeballs (look at me creating words xD) I'm also glad I waited to read this book, warning if you haven't read this book yet you should. Go, go read it. A review and discussion will be coming…but not until June as I'm creating a backlog of reviews 🙂
*throws party for self* OMG I have finally finished this book! I'm also now super sad cause my library doesn't have the other three books in the series, which is a pain. Still I'll have a review up someone in June 🙂
If you'd like me to read your blog post (it can be a review, discussion anything though I'm more likely to comment on discussion posts) feel free to tweet me or DM me on twitter with the link to your post. I'll read it, maybe comment and like it as well as including it in next weeks wrap up 🙂
Discussion Posts
JJ @ This Dark Material discusses if Required Reading ruins books
Tiffany @ Read by Tiffany shares her top 5 reasons why she loves ebooks!
Vee @ My Reading List discusses some more of her Bookish Pet Peeves! This time its all about Useless Protagonists and the Special Snowflake Syndrome!
Book Reviews
Nicoline @ Bookish Stuff reviews PS I Still Love You by Jenny Han! (I so need to reread the first two books and read the last book xD)
Lauren @ Northern Plunder reviews Everless by Sara Holland!
Vee @ My Reading List reviews To Kill A Kingdom by Alexandra Christo!
Book Tags
NO POSTS FOUND
Helpful Posts
Becky @ Uptown Oracle talks about how to optimise your time, so you can be more productive! Becky also has another Blogging 101 post up – if you've ever found twitter confusing worry not. As this post explains how to utilse twitter.
Simant @ Flipping Through the Pages hits us with another Blogging 101 post, this time its all about staying legal! More specifically the why and how of writing a disclaimer for you blog. (yep need to do that a privacy policy…eeek better shove them on my to do list)
Sometimes I dive into the BookTube world – when I do and I find anything you guys may enjoy I'll link it below. Again, if you're BookTuber and a Book Blogger or just a BookTuber then feel free to tweet me or DM me on twitter with a link to one of your videos you'd like me to watch. 
Reoccurring theme here of watching Hailey in Bookland's videos, but honest this one made me so jelly of her bookstore!
COME BOOK SHOPPING WITH ME | Follow Me Around Book Haul
Eeek ok so erm I figured out my schedule for May.  Basically no posts on Weds and Sat now. I'm also gonna be working on doing my best to catch up on my reading, cause well I'm still behind schedule. I just don't prioritise reading that's my problem, I pick writing over reading and it's so frustrating. Since I've still not managed to actually start outlining an original book yet. I miss it…but I think a break from it has done me good.
Out of curiosity would anyone be interested in reading about my writing journey so far? In short I've been writing for 6 years, I began at 11 and haven't stopped since haha. But I write stories, poems and lyrics so if you're interested I'll definitely make sure to add that as a Thursday Talks post.
As for the rest of my life, I finished Caraval and Grave Memory which I'm super proud of. I'm determined to get through these silly books, even if my brain is making me want to write. Anyhoo, college has been going great interestingly one of our projects involves building a website and the other one is photography. I swear my brain fried when we learning about the exposure triangle *melts* aperture, ISO and shutter speed is what goes on the triangle as for the relationships don't even go there. I've already forgotten them haha. 
(Sun) Weekly Wrap Up #29
(Mon) My Rating System ~ Breakdown
(Tue) Writers Den #4: Creating Characters + look into dialogue
(Thur) Thursday Talks #4: My Artwork ~ Hand Drawn and Digital
(Fri) Bookworms Explained #14: Why We Endanger Our Books With Baths!
(Fri)  May Goals + Look Back On April Goals
(Sat) Dewey's Readathon ~ My TBR
(Sun) My Blogging Journal ~ New and Improved
(Mon) Top 5 Paranormal Books
(Mon) Reading Challenges Check In ~ April
(Tue) Writers Den #5: Planning Plots: the twists, turns and pitfalls
(Thur) Thursday Talks #5: Role Models ~ are they a good idea for children to have?
(Fri) Bookworms Explained #15
(Sun) Weekly Wrap Up #31
How's your week been? I will get round to returning comments and blog hopping to your wrap ups later on today or tomorrow – I'm attempting to do like several things at once and I'm a flop at multitasking 😉 Thanks for reading, hope you have a great week!