The Sunday Post is a weekly meme hosted by Kimberly @ Caffeinated Reviewer. It's a chance to share News. A post to recap the past week, showcase books and things we have received and share news about what is coming up for the week on our blog.
I loved this book so much! The way it was written and everything, was so different, unique and a break from the usual style.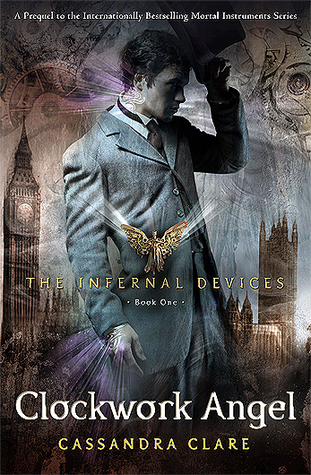 This was a reread for me, and it was the book that got me out of my reading slump. I love this series so much, and I can't wait for The Last Hours series to come out.
Hoping to finish these two by the end of the year, I have a feeling though that I won't Invictus till next year.
Cait aka Paper Fury shares the reasons bookworms panic at the end of the year, it's accurate as hell.
Hooray for me! I finally got some reading done! As a side note, I've taken to reading in the lounge downstairs, with a candle lit. As I live at home with my parents still, I'm 17 and in full time education (college) I have to abide by their rules still. One of which, no candles lit in my bedroom. Meaning I have to light them downstairs, since it's darker sooner and I'm a total night owl and love the dark. I've enjoyed having a scented candle lit in the lounge, whilst I read with the Christmas lights on. 
For those UK readers, you'll know of the channel CBBC and maybe or maybe not the show The Dumping Ground, a spin off from very originally Tracy Beaker. I just watched this past Friday the last episode of this series…I'm not ok. I'm sure we all relate to this problem, when you ship two characters sooooo much, and you can tell they both like each other as more than friends; but they're best friends. Due to them being best friends, neither wants to tell the other as it could ruin their friendship and then they'd have nothing. This is my problem and it's slowly killing me, I can't watch TV shows without shipping people left right and center haha. (Tyler and Jody are the characters from this show I'm on about, in case you were wondering.)
Now aside from the Book Blogger Hop, and the Sunday Posts, there will be no other posts going up until January 1st. (I may end up doing a few tags here and there) This is down to me, needing to spend time pre-writing stuff for January, possibly February as when I'm back at College that will sadly have to take priority. If for any reason you want to talk to me, about anything tweet me and I'll see it since I'm constantly on Twitter. It's the one social media I am on practically 24/7.
I do hope you all have a smashing Christmas, and you get everything you wished for, do remember though. Christmas isn't just about presents, its about family too. So have a merry Christmas from me, and be sure to stop by next Sunday for an update on how my Christmas went. I'll possibly do a Christmas Book Haul too, we'll see.
My 2018 Anticipated Book Releases
Book Blogger Hop #14 ~ Asking for a book or Gift Card from Co-Workers
'Inside & Out' ~ Book Tag
Would You Rather… ~ Book Tag
And that is all my lovely readers, it seems like this year has flown by. Brief recap for you all:
January 2017 I was in Year 11 at secondary school still, getting ready for my GCSE's.

May – June I was taking my exams and finished school June 16th for summer.

May 27th I met a girl who is now one of my best friends, and yes we're online friends. So whilst I get it, online people may not be who they say they are. She was my rock when I was going through so much at school, and I love her for being at my side. And I can't wait to finally meet her, hopefully in 2018!

August 16th I started this blog as I finally knew I wanted to have an outlet for my bookish self, before I drove myself crazy.

August 26th I think it was I got my results and found out that I didn't get into my Sixth Form, because at the time I was missing a B grade. (I got C's, a B in Art and a D in history) meaning I had to find somewhere else to go. The school wanted my maths remarked and it came back as a 5 (meaning it was a B) also meaning I would have had the entry requirements to go into my bloody sixth form. Instead I went to college and am taking a Graphics and Digital Design course. 

September 8th I believe I started a whole new chapter of my life and began college.

September 25th I went to my first ever concert to see RoadTrip (they're a boyband and perhaps my guilty pleasure if I ever were to have one, I'm not usually one for boybands)

November 1st I turned 17…and realised that I feel about 25 instead of 17, thank you books for that.

December well there's Christmas and my grandma's birthday. 
Also this year I had my first boyfriend, 3 months…it's still weird to me. Like I'm a total introvert and I mean I can sort of socialise but I find it easier talking to people who are say 4+ years older than me, I don't really relate all that well to my generation. Anyway, let me know if you do want to get to know me more as I think there's a tag lurking about for me to do about myself. Failing that I'll just do a Get to Know Me post, if you guys would be interested?
Happy Reading and Merry Christmas!
~ Chloe